Connecticut's Full-Service Insulation Contractor
Dr. Energy Saver of Connecticut has the training and technology to provide customized insulation solutions that will increase comfort and healthfulness while decreasing your utility bills
Rigid foam insulation comes in large panels of varying thicknesses. It's the best insulation to use on basement and crawl space walls because it doesn't absorb moisture or attract mold.
Cellulose insulation is made from recycled newspaper treated to resist combustion, insects and mold. It's often blown into attics as an insulation upgrade, but it can also be blown into wall and floor cavities.
Injection foam is specially formulated for insulating wall cavities, cathedral ceilings and other enclosed spaces. With excellent flow and fill characteristics, it can be used where there's no insulation or where existing insulation isn't performing adequately.
Spray Polyurethane Foam (SPF) is a two-part, closed-cell spray foam with many uses. It expands when applied, sealing air leaks while also creating an effective thermal barrier. It's often used in attics and basements.
Today there's an amazing variety of insulation materials available. In addition to "fluffy" insulation like fiberglass and cellulose, there are different formulations of spray foam, different types of rigid foam, batt-type insulation made from mineral fiber or recycled cotton, and specialized insulations made for water heaters and plumbing lines.
Each type of insulation has unique characteristics that make it ideal for certain applications and unsuitable for others. This is why it's important to deal with a full-service insulation contractor like Dr. Energy Saver of Connecticut.
We'll never try to sell you a "one size fits all" insulation solution. Instead, we'll develop a customized insulation plan that puts the best insulation in the best location. This policy ensures that you'll get the best performance and the best return on your investment.
Comprehensive Insulation Services from Dr. Energy Saver:
Free inspection to assess existing insulation and identify specific upgrades that will save energy and improve indoor comfort & air quality.
Free estimates for all proposed insulation upgrades.
Access to the most comprehensive selection of insulation materials available in the Northeast.
Expert installation of all insulation types by our trained technicians.
Duct sealing and duct insulation.
Total home energy assessments to identify additional energy-saving opportunities.
Fully warranted work
Enjoy these benefits when you have insulation installed by Dr. Energy Saver of Connecticut:
Expert air sealing with every insulation upgrade, to stop air leaks that waste energy and make rooms uncomfortable.
Lower utility bills --reductions of 30% are possible.
Improved indoor air quality.
Greater comfort --an end to rooms that are too hot or too cold.
Improved "green" value due to lower energy use.
Improved resale value when you sell your home.
Serving Stamford, Norwalk, Darien and all of CT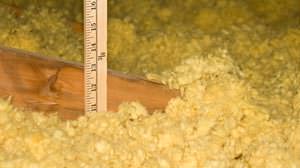 Thickness counts. The more insulation you install, the greater energy savings you'll enjoy.
Dr. Energy Saver Of Connecticut provides expert whole house insulation installation services for crawl spaces, basements, attics, garages, and wall insulation in all of Connecticut. Call or e-mail us today for a free home insulation installation quote in CT!
We proudly offer home insulation in Stamford, Norwalk, Darien, Norwalk, Stamford, Darien, Darien, Norwalk, Stamford, and throughout the rest of Connecticut!
Higher Levels of Insulation Will Improve Your Connecticut Home
Get the facts!
The more R-value, the better. There are many different insulation materials, but all types of insulation are measured according to their resistance to heat flow, or R-value. Fiberglass batt insulation, for example, has an R-value of about R-3.6 per inch, while rigid foam can range from about R-4 to R-7 per inch. To achieve the higher "target" R-values recommended by the U.S. Dept. of Energy, it's necessary to install thicker layers of insulation.
Correct insulation installation is critical. For any type of insulation to achieve its rated R-value it must be installed properly. When insulation is compressed, moist or installed with gaps or "voids," its performance drops significantly.
Insulation and air-sealing go together. Sealing leaks in the "building envelope" is an important energy-saving step that should be done along with any insulation upgrade. Without effective air-sealing, heat can move by convection through most types of insulation, nullifying its energy-saving value. If your house has recessed "can" lights or ductwork, you can be sure that air-sealing improvements will make a big difference in comfort and energy performance.
Insulation upgrades pay for themselves faster than most other energy-saving upgrades. Improving home insulation is much more affordable than having replacement windows installed, and it's a "once-and-done" upgrade that never requires maintenance or replacement.
Most homes aren't adequately insulated. Don't waste energy (and spend money) needlessly! Call today to schedule a free home insulation inspection!
Contact Us For
A Free Estimate
Privacy Statement: Your information will be kept confidential and will not be shared with any third parties.
Start saving energy and money with an insulation upgrade.
Call 1-800-328-1081 or contact us online for an insulation estimate or a free home energy audit in Stamford, Darien, Norwalk, and nearby!
We're proud to offer home insulation in Stamford, Norwalk, Darien area, as well as Norwalk, Stamford, Darien, New Canaan, Greenwich, Westport, Danbury, West Hartford, Ridgefield, Hamden, and all surrounding areas in Connecticut.
Looking for a price? Get a no cost, no obligation free estimate.