Roofing Spray Foam Insulation in Stamford, Norwalk, Darien, New Canaan, Greenwich, Westport & Nearby
Residential & Commercial Roofing Spray Foam Contractor in CT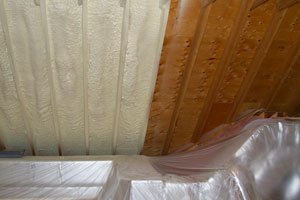 Spray foam roofing has become very popular in residential and commercial applications, and it's easy to understand why. Spray foam can save energy, and that's increasingly important to home and business owners, as well as building managers, schools and government organizations.
At Dr. Energy Saver Of Connecticut, we aim to use only the best insulation-- and roofing is no exception! Contact us today to schedule your free estimate for spray foam roofing in Stamford, Norwalk, Darien, Milford, Trumbull, Stratford, Cheshire, Bridgeport, Hartford, New Haven, Waterbury, Manchester, New Britain, Bristol, Meriden, Glastonbury, Monroe, Shelton, and throughout CT including New Canaan, Greenwich, Westport, Danbury, West Hartford, Ridgefield, Hamden, and more!
But to really appreciate what this high-tech material can do in residential and commercial roofing applications, check out these other noteworthy advantages of Spray Polyurethane Foam, or SPF:
Advantages of spray foam roofing
Light weight. Thanks to its light weight, SPF can be applied to an existing roof without requiring any additional structural reinforcement.
High insulating value. SPF has a higher R-value per inch (R-6 or more per in. in most applications) than any other type of insulation. Even a thin layer of spray foam insulation can make a significant improvement in a building's energy performance.
Full coverage. SPF expands to many times its original volume as soon as it's applied, completely filling gaps and sticking to everything it touches. Energy-wasting voids are eliminated, and the SPF application actually increases a building's strength, helping large buildings to better withstand high winds.
Effective air & moisture barrier. Because it's "closed-cell" foam, SPF forms a seamless barrier to moisture and air movement. This feature enhances energy efficiency while also making the foam immune to moisture damage.
Stable, long-term performance. Unlike "fluffy" insulation materials like fiberglass and cellulose, SPF won't absorb moisture, settle, compress or shift out of place. It's insulating and air/moisture barrier qualities remain stable over time.
Differences between residential & commercial spray foam roofing
While commercial and residential spray foam roofing share all of the advantages explained above, the application details differ in significant ways. Here's what you need to know about these differences:
Exterior vs. interior applications. With commercial spray foam roofing, the SPF application is usually made on top of the structural roof surface or on top of existing finished roofing material. After the roof exterior has been cleaned and primed, technicians apply a thin layer of SPF over the entire surface. Thanks to its flexibility and sealing capability, spray foam is "self-flashing;" it can be applied directly to roof penetrations like vents and pipes, without requiring additional flashing work. In residential SPF roofing applications, the foam is usually applied from inside the attic, filling the space between rafters.
Protection from UV degradation. Like many other materials, SPF deteriorates when exposed to direct sunlight for long periods of time. For this reason, commercial SPF roofing needs to be coated with a flexible membrane designed to reflect solar radiation. Roofing contractors typically apply an elastomeric roof coating to commercial spray foam roofing as soon as the foam has cured.
Free Spray Foam Quotes in Stamford, Norwalk, Darien, and throughout CT
We are the trusted and experienced spray foam contractor in Connecticut. As such, we have been fully trained to answer your questions about spray foam, specifically regarding your rooftop.
Contact us today to schedule your free estimate! We service throughout CT including Darien, Norwalk, Stamford, Stratford, Cheshire, Trumbull, Milford, Shelton, Bridgeport, Hartford, New Haven, Waterbury, Manchester, New Britain, Bristol, Meriden, Monroe, Glastonbury, Greenwich, New Canaan, Danbury, Westport, Ridgefield, Hamden, West Hartford, and more!
Looking for a price? Get a no cost, no obligation free estimate.